Man Bites Dog Films, in collaboration with Volar Video, announces the Digital Pay-Per-View and DVD/Blu-ray release dates of "The Rivalry: Red V. Blue," the first film to document college basketball's ultimate rivalry: University of Louisville vs. University of Kentucky.
Today we are pleased to report that amazon.com is currently taking preorders for the DVD and Blu-Ray. The film will also be available through Digital Pay-Per-View beginning Sunday, March 16th, 2014 at 6:00 pm ET on redvbluefilm.com. Fans can purchase unlimited digital viewing of the film for $9.99 and will be able to purchase advanced tickets beginning Friday, March 14th.
In addition, the film's DVD and Blu-ray versions will be released on Tuesday, March 18th, 2014. Fans can purchase copies of this film for $19.99 (DVD) and $24.99 (Blue-ray) by visiting retailers across the state including Walmart, Kroger, Meijer, Hibbett Sports, Fan Outfitters, Kennedy, Neutral Zone, Dunham's Sports, FiveStar Food Mart, Hallmark, Lids, and JD Becker, and also online through redvbluefilm.com, Amazon.com, CatsPause.com, ESPN.com, CBSSports.com, UKTeamShop.com and Shop.GoCards.com.
Red V. Blue weaves current events, including back-to-back national championships in 2012 and 2013, with the intriguing history of a rivalry game that didn't exist for decades. The film features interviews with legendary coaches of both programs, former players, prominent sportswriters and other sports media personalities, politicians, celebrities, and a wide range of die-hard fans, making it a must-see for any college sports fan.
The documentary premiered in Lexington at the Lexington Opera House and in Louisville at the Muhammad Ali Center in December 2013 and is currently being shown in select theaters across Kentucky through March 2014. The film also screened at The River City Festival of Films in Owensboro, KY this past weekend. For more information, please visit www.redvbluefilm.com.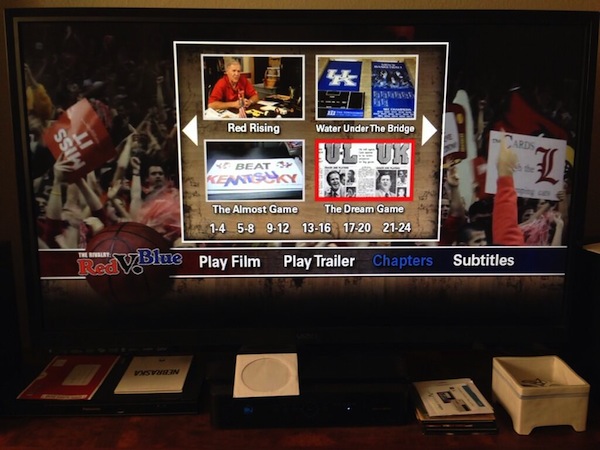 About Man Bites Dog Films
Man Bites Dog Films is a boutique film production company established by filmmaker Rory Owen Delaney with the mission of creating unique content for unique audiences. In 2010 producer Wade Smith joined forces with Man Bites Dog Films. Both Delaney and Smith share a passion for film, grew up in Kentucky and were named honorable Kentucky Colonels. "The Rivalry: Red V. Blue" is the second feature length documentary produced by Man Bites Dog Films. Man Bites Dog Films specializes in innovative digital filmmaking and has offices in Los Angeles, CA and Paintsville, KY. For more information, visit www.mbdfilms.com.
About Volar Video
Volar Video is a digital video technology company whose proprietary software and production platform enables clients to broadcast and monetize events in high quality with custom graphics and ad insertion. Led by an experienced team of production, technical software, marketing and sports executives, Volar Video delivers customized video solutions across television, computer and mobile platforms. Volar Video has offices in Lexington, Ky. and New York. For more information, visit www.volarvideo.com.